In Memoriam: Glen Nelson 1937-2016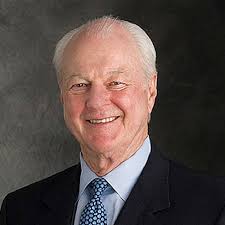 ISCTR Board Member and namesake of the society's new award in cardiovascular translational research and innovation, Glen D. Nelson, MD, passed away May 14. The entire ISCTR Board of Directors and leadership team are mourning the passing of this giant in translational research.
"Glen exemplified the vision and mission of ISCTR," stressed Nabil Dib, MD, president of the ISCTR. "He was a doctor first and foremost who saw the need to get care to patients faster and that meant getting lifesaving devices and drugs through the process as quickly and safely as possible. Glen was a pioneer in translational research, not just opening doors but tearing down walls to improve patient care."
Dr. Nelson began his career as a surgeon, practicing in Minneapolis, Minnesota, at the Park Nicollet Medical Center. He first joined this large, multi-specialty group in 1969, and then served as chairman, president, and chief executive officer from 1975 through 1986. He also began his service on the board of Medtronic in 1980. According to Douglas Zipes, MD, past president of the American College of Cardiology, "There are many tall men in medicine but very few giants. Glen Nelson, who started out as a surgeon, joined the board of Medtronic and himself fostered a great deal of translational research. In 1980, Medtronic had been primarily a bradycardia company, heavily invested in pacemakers, and at that point, Medtronic transitioned into the tachycardia world, in part led by innovative insights by Glen Nelson. Glen was on the board of Medtronic for some 22 years – during that time, he helped innovate translational research at Medtronic."
Those thoughts were echoed by former Medtronic CEO Bill George, who called Dr. Nelson "the smartest and wisest person I have ever worked with" and credited him with helping Medtronic broaden its focus beyond cardiac rhythm disease.
Upon his retirement from the Medtronic board, Dr. Nelson continued innovation in translational research by becoming the chairman of GDN Holdings, LLC, which assists health care startup ventures. In this role, Dr. Nelson was able to call upon his vast network as well as experience amassed over his 50-year career in health care delivery and the medical device industry to expand translational research and further improve the speed at which developments moved from bench to bedside. He also took his commitment to helping others to another level, leading trips to make sure care knew no borders, such as distributing hearing aids to hearing impaired children in rural villages in Africa.
In commemorating Dr. Nelson, Dr. Zipes noted that "one of Glen's strengths was the fact that he was a practicing board-certified surgeon for many years. And that gave him insight into the care of patients, what patients need. Rather than being someone just sitting behind the desk, he knew firsthand the importance of innovation in medicine, he knew firsthand the need for translational research and getting it from the bench to the bedside as quickly and efficiently as possible."
Added ISCTR Board member Robert Roberts, MD, "Glen's leadership talent and ability to take innovative ideas to the bedside was ultimate."
Others remember Dr. Nelson for his support of the arts and education, such as his chairmanship of the board of Minnesota Public Radio, where he helped MPR fundraise and construct new, state-of-the-art facilities that opened in 2006. Said Bill Kling, President Emeritus of American Public Media and Minnesota Public Radio, "Glen didn't have to do any of what he did. He didn't need to give so much of himself and of his resources to the community. He didn't need to create more new companies. He didn't need to mentor me or the MPR|APM management nor lead our Board. He didn't do it for glory. He did it because those were his values."
Dr. Nelson is survived by his wife of 55 years, Marilyn Carlson Nelson, for whom the ISCTR award is also named, their three children and nine grandchildren, who they considered the center of their lives and probably his greatest legacy. The ISCTR sends its condolences to Marilyn, their family, and all who knew Glen Nelson.